---
Charm
Earl's Court, W11
---
New girl Ada
High Street Kensington, W8
---
Nancy
Leicester Square, W1F
---
Mint
Bayswater, W2
---
New girl DUO Sakura Jennifer
Bayswater, W2
---
New girl Mia
Paddington, W2
---
New girl Kiki
Marble Arch, W1H
---
New girl Mata
Bayswater,
---
Sandy
Bayswater, W2
---
Chelsea
Bayswater, W2
---
New girl Ashley
Bayswater, W2
---
New girl Mona
Leicester Square, WC2H
---
New girl Donna
Bayswater, W2
---
Lilly
South Kensington, SW7
---
New girl Gigi
Bayswater, W2
---
Roxanne
Earl's Court, SW5
---
New girl Kaynita
Bayswater, W2
---
New girl Jasmine
Leicester Square, WC2H
---
New girl Demi
Marylebone, NW1
---
New girl Emma
Shaftesbury Avenue, WC2H
---
New girl Jessica
Bayswater, W2
---
New girl Rita
Bayswater, W2
---
New girl Candy
Earl's Court, SW5
---
New girl Sophia
Oxford Circus, W1D
---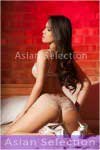 New girl Star
Earl's Court, SW5
---
Jennifer
Bayswater, W2
---
New girl DUO Rose Mona
Soho, W1F
---
Lisa
Finchley Rd, NW3

The latest Site news

News links: 1 2 3 4 5 6 7 8 9 10 11 12 13 14 15 >>Next
Membership Newsletter Subscription
Glossary

Champagne is back.
See our escorts gallery. Champagnes long awaited return, as the pretty and sexy girl arrives eager and ready to serve your pleasure needs. Call reception to book in when shes next free and welcome her back in your own inevitable way. Experience better at Asianselection the best agency to meet Asian Oriental escorts in London.

New slim Asian escorts London girl awaits you - dont delay book today
A new beauty arrives in London town with the stunning Asian escort Atsuko. Londoners take note. Shes very pretty a real head turner. See for yourself at http://bit.ly/1judQSv an Asian vision very slim and petite. An all natural figure in miniature. Just size 6 an xx small girl reminiscent of a china doll. All be it a very sexy china doll. Slim sexy legs and elegant hands. Let us introduce your beast to the beauty and make this booking a story you will want to repeat again and again. Love gorgeous Asian escorts at Asianselection.

Happy Valentines day from Asianselection
Wishing all our clients and all our escorts a Happy Valentines day. From the only Asian escorts agency worth its salt, asianselection.

New pictures update for Zizzi - Exclusive Asian Escorts Pics
We are proud to present t new and exclusive pictures for Zizzi are now uploaded to her personal page. Please visit her page to see the new changes. Zizzi Asian Escorts star in London.

Marina new pictures update
We have just completed a new set of picture updates for Marinas profile. Please navigate to her asian personal page to see the new updates.

New pics of Mata in Nottinghill gate
New pictures have been posted of Asian Mata in Nottinghill gate. Please visit her page to see her new updates.

New pictures Andrea
Sweet new pictures from asian sensation Andrea the Oriental in Baker street. See her personal page for details.

New pictures Emily
Emily is back and her new pictures show just what a refined young asian hottie she has changed in to since her glorious return. See her personal page for the new updates.

Happy New Year From Asianselection Escorts London
Happy New Year from Asian Selection! The coming year will have plenty in stall for our London Asian escorts and undoubtedly for you. Unwinding from a glutinous and possibly boozy Christmas period the new year offers an opportunity to get things back on track and focus on important things like the next steps down the bumpy road we call life. In our case we make sure that our Asian Escorts in London are keeping happy, have their community around them and aim to put them in front of as many discerning gentlemen as possible. This time of year is also a good opportunity to evaluation principles and go forward in the right way. A few weeks ago we created a publication on how to get the most out you time with an oriental escort and the same ideas still work best, be a gentlemen, take time to build a relationship and with these simple things in mind you can guarantee that your experience will be one that you never forget. Escorts are their for companionship and company, other activities that you get up to are dependent on the chemistry between you and the escort. We hope to hear from you soon, our sexy Asian escorts are waiting for you. Store the number in your phone 07770 457700 as a business contact for your exotic outlet.

Asian closing times For Christmas
Asianselection is closed on Christmas day and Boxing day. We would like to wish all our customers a very merry Christmas and a happy new year. From the Oriental admin Asian escorts booking team at Asianselection. Save 07770457700 to your mobile and call us when you next need us directly. We are all you need to enjoy our asian services.

Booking an Asian Selection London Escort
What to expect when booking an agency asian escort at Asian Selection: An incall booking is at the Asian escorts place. Getting to the escort is the clients responsibility. An outcall is arranged to your hotel or residency address and your address will be checked. You may incur taxi surcharges if the taxi exceeds the agency expectations. At hotels you maybe expected to help any way you can to encourage the escorts entry in to the hotel to smooth the flow of operations. Taxi surcharges may fluctuate due to distance, crossing central london and conditions at the time. Call our agency receptionist to meet an escort by appointment only on 07770457700.

Sunnys new stunning pictures
Some stunning new pictures have arrived for Sunny who is in edgware road. Enjoy these new and up to date pictures which really do show off sunnys new appealing look. Find sunny on our gallery to visit her personal page.

Sabrina - Young pretty Asian London Escort has moved.
Sabrina has also moved to Holborn in London. This makes her ideally suited for your westend hotel for an eagerly anticipated out call. Or take your next sneaky available opportunity for a quick incall. Find her details at our gallery at Asian London Escorts Asianselection or just call direct 07770457700 for a reservation. Why wait take a lunch break with Sabrina.

Rayya - Hot curvy Asian Escort in Holborn London
Rayya has moved to Holborn in London. Centrally located and ideally suited for your westend hotel or a sneaky incall at your next available opportunity. Asian Escort London at asianselection. Follow the link for her details or call direct 07770457700 for a reservation.

Lucy returns - All Service Asian Star. nw2 London
Proud and happy to see her back. Lucy makes a come back. Available in Willesden green she is now our star Asian escorts in nw2 London. An all service very slim, very petite star with a perky natural figure untouched by silicone. Many cried when she left no doubt many will rejoice now she is back. Add her to your favourites, find her on the gallery for her details or call us direct on 07770457700 to meet her. Asian London Escorts asianselection.
---
Availability - Generally meaning someone who is on duty, available, currently taking appointments.
Escorts - A group of Persons who specialize in accompanying another person to a location or while visiting
locations, to provide protection, support, company or companionship.
Female escorts - An escort group consisting only of females who offer services to accompany another
person providing protection, support, company or companionship.
Hotline - Our dedicated hotline is for placing your appointment. Text is acceptable while arranging your
appointment but must start off a call to begin with reassure us you are above the legal age and not a
time waster.
Latest - The latest newest arrival on the gallery. The latest, most recent escorts are featured on our home page. The most recent escort also occupies the featured spot on the home page.
London Escorts - Persons or group of people from London who accompanies another person to or at a
location, to provide protection, support, company or companionship.
Rates - (Also known as gifts or donations) what to expect as a donation when making an
appointment. the donation/rate is relative to hours required.
Site news - News, updates, features and in depth information. Read more on our news pages.

---
Subscribe to newspage rss feed.
Disclaimer