Recently updated Profiles
V
---
Patricia
Bayswater W2
---
Chanel
Bayswater W2
---
Reiya
Bayswater W2
---
Cammy
Bayswater W2
---
Annie
Earl's Court SW5
---
Nina
Bayswater W2
---
Laila
Bayswater W2
---
Candy
Bayswater W2
---
Alexia
Bayswater W2
---
Ada
White City W12
---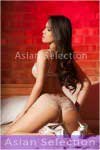 Star
Earl's Court SW5
---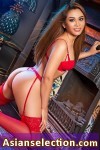 Anita
Bayswater W2
---
Amy
Bayswater W2
---
Ella
Warren Street W1T
---
Victoria
Bayswater W2
---
Charlotte
Bayswater W2
---
Arin
Bayswater W2
---
Sophia
Oxford Circus W1F
---
Natalie
Canary Wharf E14
---
Mia
Bayswater W2
---
Diamond
Bayswater W2
---
Emma
Tottenham Court Road WC2H
---
Lara
Bayswater W2
---
Lillie
Oxford Circus W1F
---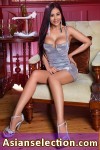 Sandy
Marylebone NW1
---
Jennifer
Bayswater W2
---
Ashley
Bayswater W2
---
Gina
Bayswater W2
---
Kiki
Marble Arch W1H
---
Patty
Bayswater W2
---
Jessica
Bayswater W2
---
Kaynita
Bayswater W2
---
Demi
Marylebone NW1
Kerry´s Asian Escort Profile
Escort in Paddington London w2 and a featured Escort by Asianselection, the Oriental Escorts Agency. Date: Wednesday February 19, 2020.
Kerry is on holiday. Visit our Asian Escorts gallery to choose again.
Kerry is Retired. Please choose again from our main Asian Escorts London gallery.
Kerry a very capable and experienced, pretty escort. An Asian escort with a cute range of lingerie and fully skilled in the arts of pleasure. Professionally trained in Asian massage to relax and release body tension. Available on request with strap on too, which for an all service girl makes a complete package for your booking party. Her petite size and her deliciously tanned soft Asian skin adds to the feel and excitement of your visit. See our site for more details or call us to arrange a booking. Located not far from Paddington tube station, London w1.
Location details: Kerry's area is Paddington, w2 . The Tube Station for this area is served by the Line (Zone ). With every valid booking, You will be guided to her location by reception.
Average rating: 9.4 / 10
---
Kerry´s details
Location: Paddington, London w2 . First Tube: , second Tube: .
Services: A level at almost all capacity, owo to cim. Kwt rimming. Professional massage. Strap on.
Height: 5ft, Descent: Asian - Oriental
Tattoo: No, Dress size: 6-8, Stats: 33c-28-34
Eyes: dark brown, Hair: long black
Sexuality: Bisexual
---
Place your rating for Kerry
Check her results
---
Click to post your review for Kerry
Read reviews already posted 1 2 3 4 5 6 7 8
Her reviews on this agency are also displayed at the bottom of this page


---
Kerry´s rates
Rates

Incall
Outcall
30 mins/half hour
£100
n/a
1 hour
£150
£200
90 minutes
£220
£300
2 hours
£280
£360
3 hours
£400
£500
Additional hours
£110
£120
£1000
£1000

Please note where an escorts needs to travel to another escorts place, a taxi surcharge may apply. For duo escorts ask our receptionist.
Asianselection The premier Asian escorts - London lads look no further for the best that London has to offer. The trusted agency since 2003 and with many satisfied returning clients. Our one number to call to sorts out your needs. Save our number to your phone today.

Our asians pictures are genuine. From the trustworthy asian escorts agency based in London. Active escorts in Earls court, Notting Hill gate, Bayswater, Paddington, Edgware road, Marylebone, Oxford street, Bond street, Holborn and Marble arch.
This Asian offers A level at almost all capacity, owo to cim. Kwt rimming. Professional massage. Strap on. in London w2 postcode zone. Her nearest tube station is Paddington.
To book Asian escort Kerry, call 07770457700 or dialing international 00447770457700. Your tempting Asian - Oriental escort girl awaits you. Start your booking adventure today.
Return to our agency home page and see todays recommended escort list.
Ⓒ copyright 2003 www.asianselection.com all rights reserved.
---
Kerry's published reviews
Any reviews for Kerry will be displayed below. If there are no reviews shown we will be happy to make a booking for you and post your review of Kerry. If some reviews show a different area its because she will have moved since the review was posted. Currently Kerry is located in Paddington.
Feedback from Dainel on 05/05/2014 &nbsp Service rating: 10
Kerry is a stunner with a great little body. She has a great bedside manner and a lovely enthusiastic personality. She even does a good massage if you to keep your own hands off her long enough to get one. Highly recommend.
Feedback from Simon on 05/04/2014 &nbsp Service rating: 10
i arrived on time to be met by kerry in a very sexy pink mini dress... and hi heel shoes. what a pocket rocket this girl is. instantly friendly ... held my hand and led me to the bedroom. she undressed me and led me to the shower. and continued to wash and prep for s(censored)x. she loves c(censored)k like a porn star. she worships and indulges herself magnificent to experience. she told me in between sucking that she loves anal and often prefers to p(censored)y s(censored)x and went on to to demonstrate that she loves a rubber c(censored)k in which ever one shes not using. she started with masturbation whilst dancing ... very horny... teasing my c(censored)k endlessly, then pulling my face into her her p(censored)y which was dripping wet... she's horny. we then assumed every position possible and imaginable, Kerry has an insatiable appetite for pse s(censored)x. If she hasnt she (censored, phrase removed) movies. she extremely well practiced and a natural. she then changed clothes... her choice.. shes perfect. anything anal... shes into ... she lay on her front and with both hands behind her back open her a(censored) and pulled out a large life like rubber c(censored) which she then plunged into her p(censored)y and ask me to f(censored) her a(Censored) now. wow thrust both cocks and came on both numerous times. she then insisted i come on her waist whilst she decadently sipped on a glass of champagne which she then dribbled down her p(censored)y..... i will return on a regular basis, she's the best in London.
Feedback from John on 04/04/2014 &nbsp Service rating: 8
Great girl really looked after me. Its not like me to write reviews but Kerry went that bit extra to make me feel good and i did. All on offer with gusto lovely girl.
Feedback from Rasal on 28/03/2014 &nbsp Service rating: 10
fantastic experience, outstanding service - lovely girl.10 out of 10 service, nice flat great time very attentive abs lovely
Feedback from What_You_Will on 13/03/2014 &nbsp Service rating: 9
Greeted at the door by Kerry looking very sexy in see through outfit. She hung up my clothes as I got undressed and then showed me to the shower. There was lots of oral both ways, lovely use of her well oiled and very sexy body and even one or two surprises that I hadn't bargained for! Kerry really wants to make sure that you are having fun. Another great girl from the best Asian agency that there is.
Feedback from Will on 10/03/2014 &nbsp Service rating: 10
Kerry, she is a very sexy beautiful lady. She has a very smooth skin. She was very welcoming. I was really enjoyed myself with her. She is very uninhibited, does pretty everything you could want. She was spent a long time sucking me off. Definitely I will book her again very soon.
Feedback from Hamilcar on 10/09/2013 &nbsp Service rating: 10
Nice flat close to station, assisted shower done very professionally. Can sum Kerry up in 3 words - cute, sexy and enthusiastic. Everything stated was on offer and performed with gusto. So would definitely return. Massage to finish was the unexpected icing on a very nice cake.
Feedback from Gary on 08/09/2013 &nbsp Service rating: 8
Not far from baker st tube although had to call the agency a bit to get my barings but was quite easy & was there in 2mins. Nice secluded top floor flat (yes its all the stairs to the top) once in a nice steaming hot bath awaits me as pre-requested. She didnt step in but helped me wash which was a great way to get to know her a bit first & warm up. Which aroused got oral started & I was led to the comfort of the bed. Oral led to some return favours which went well and we were riding soon after. Quite a nice cow girl, followed by doggy, mish then crescendo with a glorious cim. Offers of a massage after but I opted for a quick wipe down with wet wipes and leave. Back to work! Liked this girl particularly as seemed open to suggestions. Yes I would go back but not immediately as there is another that caught my eye for next time.
---

Busty Escorts - London Escorts - Earls Court Escorts - Bayswater Escorts - Marylebone Escorts - London Escort Services - High Street Kensington Escorts - Baker Street Escorts - Edgware Road Escorts - Notting Hill Escorts - Russell Square Escorts - Marble Arch Escorts - TS Escorts London - Covent Garden Escorts - Paddington Escorts - Thai Escorts - Regents Park Escorts