---
Charm
Earl's Court, W11
---
New girl Ada
High Street Kensington, W8
---
Nancy
Leicester Square, W1F
---
Mint
Bayswater, W2
---
New girl DUO Sakura Jennifer
Bayswater, W2
---
New girl Mia
Paddington, W2
---
New girl Kiki
Marble Arch, W1H
---
New girl Mata
Bayswater,
---
Sandy
Bayswater, W2
---
Chelsea
Bayswater, W2
---
New girl Ashley
Bayswater, W2
---
New girl Mona
Leicester Square, WC2H
---
New girl Donna
Bayswater, W2
---
Lilly
South Kensington, SW7
---
New girl Gigi
Bayswater, W2
---
Roxanne
Earl's Court, SW5
---
New girl Kaynita
Bayswater, W2
---
New girl Jasmine
Leicester Square, WC2H
---
New girl Demi
Marylebone, NW1
---
New girl Emma
Shaftesbury Avenue, WC2H
---
New girl Jessica
Bayswater, W2
---
New girl Rita
Bayswater, W2
---
New girl Candy
Earl's Court, SW5
---
New girl Sophia
Oxford Circus, W1D
---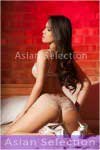 New girl Star
Earl's Court, SW5
---
Jennifer
Bayswater, W2
---
New girl DUO Rose Mona
Soho, W1F
---
Lisa
Finchley Rd, NW3
Saiyuri´s profile page
An Asian escort in Bayswater London w2 by Asianselection, the Oriental Escorts Agency. Date: Friday July 20, 2018.
Saiyuri is Retired. Please choose again from our main Asian Escorts London gallery.
Saiyuri by asianselection London Escorts. This escorts no longer active on our gallery having retired from active duty. Please revisit the main gallery to choose another escort. Her profile used to read.. A hot all service Escort to enjoy and relax with. Make the most of a sensual experienced and lovely tight sweet bodied girl for a knee trembling experience we can explain as explosive. To arrange a booking with this Escort call our London Escorts hotline now. Just 1 mins walk from queensway tube station on the central line or Bayswater on the district and circle line in the Bayswater area of London postcode area w2.
Average rating: 9.7 / 10
---
Saiyuri´s details
Location/nearest Tube Station: Bayswater, London w2
Services: mild dom, kwt, owo, daty, cim, a levels, overnight
Height: 5ft 4
Origin: Oriental
Tattoo: Yes
Dress size: 8
Eyes: brown
Hair: brunette
Sexuality: Bisexual
Stats: 34C-26-36
24hr Incall: Yes
24hr Outcall: No
---
Place your rating for Saiyuri
Check her results
---
Click to add review for Saiyuri
Clients feedback. Read their reviews for her 1 2 3 4 5 6 7 8 9 10 11
Full reviews are displayed at the bottom of this page.

---
Saiyuri´s rates
Rates

Incall
Outcall
30 mins/half hour
£100
n/a
1 hour
£150
£200
1.5 hours
£220
£300
2 hours
£280
£360
3 hours
£400
£500
4 hours
£520
£620
5 hours
£640
£740
£1000
£1000
For 2 escorts to be at the same place for your duo booking, a taxi surcharge may apply. Depending on the distances involved. For duo escorts ask our receptionist.
To book Asian escort Saiyuri, call 07770457700 or dialing international 00447770457700. Your tempting Oriental escort girl awaits you. Start your booking adventure today.

This Asian offers mild dom, kwt, owo, daty, cim, a levels, overnight in London w2 postcode zone. Her nearest tube station is Bayswater.
Return to our agency home page and see todays recommended escort list
---
Read full reviews posted for Saiyuri.
This currently located in Bayswater in case historically her reviews read differently.
Feedback from A Bloke on 27/02/2011 &nbsp Service rating: 10
Saw Saiyuri for the first time in two years, since she's been away. I was worried she wouldn't recognise me, but she did. She was absolutely great, as before, really giving a mind-blowing performance and still seeming to know what youre going to want before you ask for it. Top girl.
Feedback from Morpheus on 06/02/2011 &nbsp Service rating: 8
I have be seeing Saiyuri for some time mainly because I like f(censored)g her. Especially because she offer A levels and she can take my full length enthusiactically. By the time we are finished she normally is quite wet and me exhausted.
Feedback from Mack on 07/12/2009
Very disappointing. The pictures are heavily made up. Saiyuri made no effort to smile when she opened the door. She did not offer me the use of the bathroom let alone the shower. I had to ask to use the bathroom. I am a clean person and always like to shower beforehand. This did not happen. She also kept disappearing for several minutes at a time before we finally got started. It was obvious that she was not making any effort, and she couldnt finish quickly enough. THe appointment (and payment) was for one hour. I probably got no more than 20 minutes. I left as soon as I could. Perhaps it had been a hard day for her. I do understand that these girls are not doing this for enjoyment. But simple courtesies are not too much to expect. I wont be returning to see her. And I also expected better from Asian Selection; they are usually good.
Feedback from Don on 30/08/2009 &nbsp Service rating: 9
I enjoyed my time with Saiyuri. She is an open and honest person who is happy to chat as well as be physical. In fact she like a balance of the two which was great. She is warm and friendly in a genuine way.
Feedback from Craig on 25/03/2009 &nbsp Service rating: 10
I can only reiterate the comments of previous reviewers - this was the best ever!! Saiyuri not only seemed to know what I wanted without me saying, but appeared almost to want it more tham me!! I WILL BE BACK.
Feedback from Lkat on 17/02/2009 &nbsp Service rating: 10
amazing duo. They are the best. Have spent time with them each alone, but together it was first rate. this is the duo to beat all others.
Feedback from A Bloke on 14/11/2008 &nbsp Service rating: 10
Well, this was my third visit to Saiyuri and she just gets better every time. She is enthusiastic about things, to put it mildly, and just rocks my socks off every time I see her. To say she will do what you ask her to is putting it mildly – she actually appears to be a mind reader and can tell what you're going to ask for before you do! Like I said before, 11/10 if I could give that score.
Feedback from UL on 11/11/2008 &nbsp Service rating: 10
Terrific cute lady. Great personality too.Go see her.
Feedback from Peter on 19/10/2008 &nbsp Service rating: 10
It was the best such experience of my life. The kissing on its own was worth the visit. She is classy and has the perfect body and manner. She initiated everything which made me feel special. A plus plus service.
Feedback from Lkat on 04/09/2008 &nbsp Service rating: 10
If you are looking to get a wild ride NONE BETTER Don't walk to this fine lady,RUN Then you need to take a taxi home as your legs won't work. Just a great time.
Feedback from A Bloke on 09/08/2008 &nbsp Service rating: 10
What a lovely girl. Friendly, chatty, does everything it says on the packet with a great (I mean great) deal of enthusiasm. Out of maybe 40 girls I've seen in the last year, surely the best by a good way. Worth going just to kiss her. I'd give her 11 out of 10 if I could.
---

Busty Escorts - London Escorts - Earls Court Escorts - Bayswater Escorts - Marylebone Escorts - London Escort Services - High Street Kensington Escorts - Baker Street Escorts - Edgware Road Escorts - Notting Hill Escorts - Russell Square Escorts - Marble Arch Escorts - TS Escorts London - Covent Garden Escorts - Paddington Escorts - Thai Escorts - Regents Park Escorts