---
New girl Ada
High Street Kensington, W8
---
New girl Sophia
Oxford Circus, W1D
---
Nina
Bayswater, W2
---
Roxanne
Earl's Court, SW5
---
New girl Candy
Earl's Court, SW5
---
New girl Rita
Bayswater, W2
---
New girl Emma
Shaftesbury Avenue, WC2H
---
New girl Sugar
Bayswater, W2
---
New girl Donna
Bayswater, W2
---
New girl Ashley
Bayswater, W2
---
New girl Sandy (aka Faye)
Marylebone, NW1
---
New girl Demi
Marylebone, NW1
---
New girl Nancy
Bayswater, W2
---
New girl Mona
Soho, W1F
---
New girl Cream
Leicester Square, WC2H
---
New girl Cherry
Bayswater, W2
---
New girl Rose
Soho, W1D
---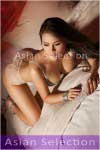 New girl Star
Earl's Court, SW5
---
New girl Jessica
Bayswater, W2
---
New girl DUO Sakura Jennifer
Bayswater, W2
---
New girl DUO Rose Mona
Soho, W1F
---
Lisa
Finchley Rd, NW3
---
Jennifer
Bayswater, W2
---
Mint
Edgware Road, W2
Thank You for your feedback
We appreciate the time you have taken to help us improve the quality of our service. Your feedback will be reviewed and posted at the bottom of the girls personal page. Your personal details are NOT shown and any sensitive information will be removed to protect the visitor and the escorts confidentiality. You and the escorts discretion is our prime concern.

Would you like to see all feedback you have posted? click.. Find all my reviews
Or find a girl your interested on our gallery, and visit her personal page where that escorts reviews display on the bottom of he page.
Save our number discreetly to your mobile for future use.
We welcome your future visits and endeavour to provide you with more quality asian escorts London Escorts in the future as we have in the past. Please save 00447770457700 to your phone, for easier contact with us in the future.

Our agency and our Asian escort London girls want to thank all those who have supported them during their appearances on asianselection agency. Also for those who are considering using our agency in the future.





---

Appointments - Are a fixed diary time with a desired escort. Why do you need an appointment.. Because escorts are people and not products they have lives, family, partners and domestics to organize prior to a visit. Your appointment respects her space. An escort may refuse your appointment if you dont respect the appointment system.
Escorts - A group of Persons who specialize in accompanying another person to a location or while visiting
locations, to provide protection, support, company or companionship.
Feedback - Written feedback of girls who appear on our gallery which has been submitted using the
feedback form on this site. Feedback is different to reviews. to locate feedback, click on the girl you are
interested in and view the details section of her personal page. The most recent feedback posts are also
shown on our home page.
Gallery - A collection pictures on our site on one page. Click any picture to visit a personal page. Galleries are also categorized for ease of use.
London Escorts - Persons or group of people from London who accompanies another person to or at a
location, to provide protection, support, company or companionship.
Membership - A member has completed the membership form and is a member of this site. Benefits include discounts, features and notification when a new girl is posted on to the gallery.
Punter - A person who frequents or is interested in escorts.
Punting - A person or person involved in the activity of frequenting escorts.
Reviews - Written reviews of girls who appear anywhere on the internet. Usually these are on an
independent site where punters are sharing their experiences with other punters online. On our site,
experiences are known as feedback and we only accept feedback of girls who appear on our gallery.


---

London escorts (Galleries - All London Escorts - New London Escorts - A Level London Escorts - Duo London EscortsBusty Escorts - Earls Court Escorts - Bayswater Escorts - Marylebone Escorts - London Escort Services - High Street Kensington Escorts - Baker Street Escorts - Edgware Road Escorts - Notting Hill Gate Escorts - Russell Square Escorts - Marble Arch Escorts - TS Escorts London - Covent Garden Escorts - Paddington Escorts - Thai Escorts - Regents Park Escorts

Disclaimer