---
Charm
Earl's Court, W11
---
New girl Ada
High Street Kensington, W8
---
Nancy
Leicester Square, W1F
---
Mint
Bayswater, W2
---
New girl DUO Sakura Jennifer
Bayswater, W2
---
New girl Mia
Paddington, W2
---
New girl Kiki
Marble Arch, W1H
---
New girl Mata
Bayswater,
---
Sandy
Bayswater, W2
---
Chelsea
Bayswater, W2
---
New girl Ashley
Bayswater, W2
---
New girl Mona
Leicester Square, WC2H
---
New girl Donna
Bayswater, W2
---
Lilly
South Kensington, SW7
---
New girl Gigi
Bayswater, W2
---
Roxanne
Earl's Court, SW5
---
New girl Kaynita
Bayswater, W2
---
New girl Jasmine
Leicester Square, WC2H
---
New girl Demi
Marylebone, NW1
---
New girl Emma
Shaftesbury Avenue, WC2H
---
New girl Jessica
Bayswater, W2
---
New girl Rita
Bayswater, W2
---
New girl Candy
Earl's Court, SW5
---
New girl Sophia
Oxford Circus, W1D
---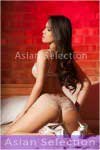 New girl Star
Earl's Court, SW5
---
Jennifer
Bayswater, W2
---
New girl DUO Rose Mona
Soho, W1F
---
Lisa
Finchley Rd, NW3
Please note that 30 minute bookings have certain special conditions. Its importnant to note that some girls may refuse a short booking. In a few cases girls have been known to cancel a 30 minute booking if its aparent that its becoming complicated or full of issues. Oriental Escorts react pretty much the same as all other London escorts in this regard. Why are we telling you this? well, its not to put you off but to help you understand that longer bookings generate a better interest from the escort. Your booking has a better chance of starting off on the right foot. We accept 30 minute bookings but to avoid your booking becoming soured right from the start we have introduced the following to ensure a smooth flow in operations for your booking and produce a satisfying end result for all involved.
30 minute short bookings have the following conditions..
Short bookings attract only standard service (no frills).
Only 1 time change allowed.
Only 1 special request allowed.
Messing around with your booking may result in cancellation.
If you require many special requests, full services and especially an outcall you will need to arrange a longer booking.
Remember if your asking for a lot then 30 minutes is usually too short to squeeze in everything you have planned. Its worth avoiding any buid up of friction between you and your asian escort. A well oiled smooth booking generates a relaxing time thats far more pleasurable for both of you and has a much more enjoyable end result. As all you experienced punters know too well.
Regards, The Asian Escorts London receptionist at asianselection.
Return to London escorts Home page
The rates shown here are for time and companionship only and not for any illegal or immoral act. Any personal conduct of an intimate nature is a matter of agreement between two consenting adults and behind closed doors or a similar private manner or place. We hold no responsibility for the conduct of either party either as (a) A visitor to this site (b) a gentleman who hires an escort or (c) an escort who has sought to use Asianselections advertising services. We (Asianselection) are purely an advertising and handling agency who continually strive to connect two parties together. The two parties concerned are (a) Gentleman or ladies who contact us with the intention of making a date or appointment with one of our escorts, and (b) escorts who have agreed to hire our services to promote them or with such intentions but also as a handling agent to ensure there is a satisfactory or successful date as a result.
Disclaimer